Are you looking at volunteering in a unique destination in Africa? Looking for an off the beaten path experience in Africa?  Thinking outside-the-box for your volunteer Africa trip? Burundi, a small country in East Africa is the perfect choice! Go Volunteer Africa is offering an authentic volunteer travel experience through unique volunteer opportunities in Burundi.
Burundi Volunteers Tours offered and arranged by Go Volunteer Africa are unique, safe and focused towards sustainable development. Burundi offers a unique charisma to its volunteers, tourists and you will come across various adventures and interesting activities to engage in that will inspire you.
Go Volunteer Africa recruits volunteer tourists for our Burundi volunteer tours to get engaged in our locally-run sustainable development, environment conservation, teaching, health care, building and sports projects, HIV/AIDS, youth work from Bujumbura to Gitega.
Go Volunteer Burundi works closely with each volunteer to ensure comprehensive preparation, including both an understanding of the people with whom you will be working, and all considerations necessary for travel to Africa. If you are looking at avoiding the volunteer tourist crowds or make a difference in a country which generally gets less international volunteers than other more well known countries across Africa- check out our volunteer projects in Burundi.
 VOLUNTEER PROJECTS & SAFARIS IN BURUNDI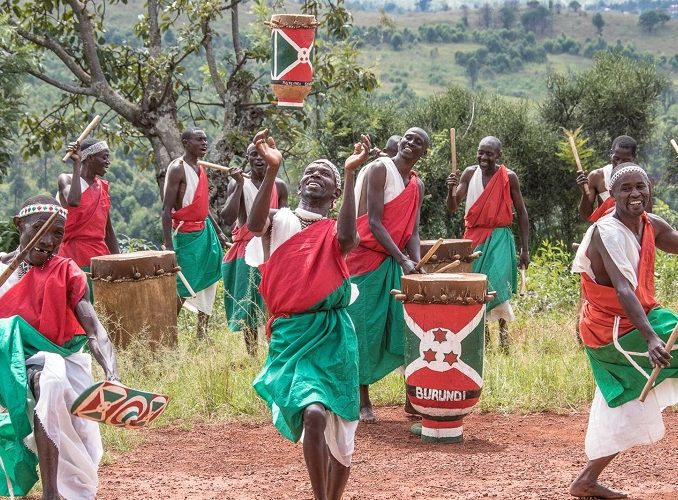 EXTRAS AND SUPPORT
ABOUT BURUNDI
Burundi is a small landlocked country in East Africa, although it has some cultural and geographical ties with Central Africa. It is bordered by Rwanda to the north, Tanzania to the east and southeast, and the Democratic Republic of the Congo to the west; Lake Tanganyika lies along its southwestern border. The capital is Gitega, having moved from Bujumbura in February 2019.
Tiny Burundi is an incongruous mix of soaring mountains, languid lakeside communities and a tragic past blighted by ethnic conflict. Despite their troubles, Burundians have an irrepressible joie de vivre, and their smiles are as infectious as a rhythm laid down by a drummer from Les Tambourinaires.
Burundi covers 27,834 km² with an estimated population of almost 11.2 million. Although the country is landlocked, much of the south-western border is adjacent to Lake Tanganyika, one of the deepest lakes in the world.
Burundi is one of the ten least developed countries in the world and it has the lowest per capita GDP of any nation in the world. Cobalt and copper are among the nation's natural resources. Other resources include coffee, sugar and tea.
Burundi possesses all the elements of a young nation with ancient traditions that constitute its very rich culture: art, dance, music, and handicrafts. Its aim is to ensure the transmission of the cultural inheritance from the forefathers and ancestors evidenced by belongings and objects they revered and favoured, the dances and rhythmic music they composed.
Burundi is an off the beaten path destination for most visitors to East Africa, and one should consider the cost/benefit calculation before travelling to this friendly, if limited in options destination. A jovial time can be had here, for a price, and with an understanding of French you will have a better chance of enjoying your time here.
Capital: Gitega (Population: 120,000) Formerly Bujumbura
Currency: Burundi franc (BIF) $1 = 1,860BIF / £1 = 2,297BIF (2019)
Population: 11,200,000 (approx)
Official languages: Kirundi (official), French (official), Swahili (along Lake Tanganyika and in the Bujumbura area and limited English)
Area: 27,830 sq km
International Calling Code: +257
PROJECT LOCATIONS & QUICK FACTS
Go Volunteer Africa offers a wide range of volunteering and travel opportunities in Burundi from teaching, childcare, construction, conservation or healthcare projects. If you are looking for somewhere to volunteer and get immersed in the culture, Burundi is an ideal destination. Programs are perfect if you want to go off the beaten path and would like to see more than the average tourist and truly start to understand this distinctive culture. 
VOLUNTEERING IN BURUNDI QUICK FACTS
The program is open all year-round
Very flexible start and end dates (arrive any day of the month)
Over 8 oustanding sustainable project options
Projects are based across the country with major locations being Bujumbura & Gitega
Accommodation available at volunteer house & host families
Program fees include pre-departure support, airport pick-up, orientation, accommodation, meals and 24/7 in-country support
We are the most affordable organization in Africa, because we are the locals!
You will get to integrate into local society, sample the tasty food, experience the vibrant culture and also make a difference. Programs are available all year round and they will give you an opportunity were you can help people and the environment. Volunteering in Burundi and helping people in need is a highly rewarding experience and there are also lots of cultural and sightseing activities you will get to do in your spare time.
VOLUNTEER REQUIREMENTS
VOLUNTEER REQUIREMENTS
Volunteers need to be 18 years or over to participate, unless volunteering with a parent or guardian. All volunteers are required to have adequate volunteer travel insurance and provide a criminal background check to Go Volunteer Africa's local Coordinators on arrival in the country.
SAFARIS & TOURS
Safaris, day and cultural tours can be organized over the weekends for volunteers. This is a fantastic opportunity to see the famous  Burundian wildlife. There is a lot to see and do in Burundi.
SUPPORT

BEFORE YOU GO

IN-COUNTRY

§  Pre-departure support & documentation

§  Travel & medical advice & documentation

§  Advice on visas & equipment advice

 

 

 

§  Project orientation

§  Accommodation

§  3 meals a day

§  Airport pickup

§  In-country emergency support

§  24-hour HQ backup

§  Free GVA t-shirt

 
BURUNDI VOLUNTEER PROGRAM HIGHLIGHTS
Immerse yourself in rural, slum, semi-urban & engaging community
Promote sustainable community livelihoods
Improve the living standards of local people
Make friends for life
| | |
| --- | --- |
| Transport: | Airport pickup |
| Accommodation: | Volunteer Guest house/ Host Family |
ARRIVAL & AIRPORT PICKUP
After you have booked and confirmed your placement, please book your flights to arrive at Bujumbura International Airport in Bujumbura (former capital of Burundi). A member of staff from our local partner organization in Burundi will meet you on arrival at Bujumbura International Airport in Bujumbura and take you to the volunteer guest house or host family which will be your base for volunteering.
Orientation and Placement will be done the next day. This airport services numerous international carriers. Burundi has good connections to destinations throughout Europe, the Asia- Pacific region, USA and Africa.
ACCOMMODATION & LIVING IN BURUNDI
Participants in our programs and tours in Burundi are provided accommodation in a nice well organized guesthouse or in a homestay accommodation managed by the local coordinating team. Three meals a day (Breakfast, Lunch and Dinner) are provided to the participants from Monday - Sunday. Life at the accommodation facility is simple, unsophisticated and fun, perfect for unwinding from a busy day!
The accommodation is neat and clean. Accommodation is shared amongst volunteer tourists on the 'same gender sharing' basis rooms. Wifi internet, warm water is not guaranteed. The facility has western style toilet and shower facilities are shared between 4 or 10 people.
The accommodation is very close to useful amenities like banks, ATM's, currency exchanges, restaurants, cafes and shopping places. All placements are around 10 - 30 minutes from the accommodation.  Its equipped with a lounge, TV, Kitchen, hand washing facilities and spare electricity sockets. 
Over the weekends or evenings, participants are free to eat out and explore the different delights that Burundi has to offer. We arrange city day tours and long-weekend safaris. No matter what your interests, there is always something for everyone to enjoy!
Some volunteers are also provided accommodation in the project premises itself. For example - Volunteers working in orphanage project can be provided accommodation in the project premises itself in a separate room that is allotted for volunteers. 
PROGRAM COSTS
Item

Cost (USD$)

Inclusion

1 week

$260

 

Project orientation
Accommodation
Three meals a day
Airport pickup
In-country emergency support

 

Exclusions:

Flights
Visas
Insurance
Personal Expenses
Airport Drop off (Can be arranged upon request)

2 weeks

$360

3 weeks

$460

4 weeks

$560

5 weeks

$660

6 weeks

$760

7 weeks

$ 860

8 weeks

$960

9 weeks

$ 1060

10 weeks

$1160

Extra week

+ $100
PLACEMENT BOOKING FEE:
After application process and acceptance into the program, you will be required to pay a placement booking and confirmation administration fee of USD$180 (solo traveler), USD$150 (2-5 participants p/p), USD$125 (6+ participants  p/p). This is charged above the program fee quoted which is paid in cash upon arrival to your host country.
The fee covers: Administration Costs, Placement Booking & Confirmation, Pre-departure support & documentation, 24-hour international HQ back-up
Visas: All visitors to Burundi, unless they come from one of the visa-exempt countries, must obtain a visa from one of the Burundian diplomatic missions before entering the country. Until 30 April 2015 citizens of all countries entering Burundi through Bujumbura International Airport were able to apply for a visa upon arrival. However, they were then required to obtain a visa in advance. In October 2015 it was announced that the visa on arrival for 3 months at Bujumbura airport would again be available to foreign visitors. An Entry Authorisation letter issued by the authorities of Burundi is now required to obtain a visa on arrival.
Insurance: You'll need to buy appropriate travel insurance covering your participation on the program. You won't be able to go without the right travel insurance so double check to avoid disappointment. Please make sure that you're covered for the whole duration of your trip – from the day you leave your home to the day you return.
APPLICATION & BOOKING
To participate in this program, you have to fill an online application form, and submit it for consideration. After application process and acceptance into the program, you will be required to pay the booking fee to confirm your placement. Failure to make the placement booking and confirmation payment will lead to cancelation of your program.
Get Started
Fill Volunteer Application Form here or Make an inquiry here