Volunteering in Togo! Go Volunteer Africa, the leading and largest volunteer travel organization in Africa welcomes you to Togo. The Thin Sliver of West Africa is exceptionally beautiful, and the people here are super friendly. And that's precisely what makes it ideal for those who prefer to explore places off the beaten track!
It's our great pleasure to present Go Volunteer Africa's Togo volunteering program. Volunteering in Togo with Go Volunteer Africa is a meaningful, challenging and ultimately rewarding experience. Togo is a beautiful country with many great volunteer opportunities for those looking to travel and give back a helping hand.
Our Togo volunteer program allows volunteers the opportunity to work alongside local and interesting people that are focused on developing and empowering their communities. Working with very willing communities also forms part of the make-up of these incredible life enhancing volunteer projects in Togo.
VOLUNTEERING IN TOGO PROGRAM HIGHLIGHTS
Coach sports and games
Learn French Language
Teach English language
Take up a medical care job
Work with childcare projects
Work with our arts and culture projects
Work with women empowerment projects
Get involved in our environment conservation project
Visit the numerous historic and geological sites of the region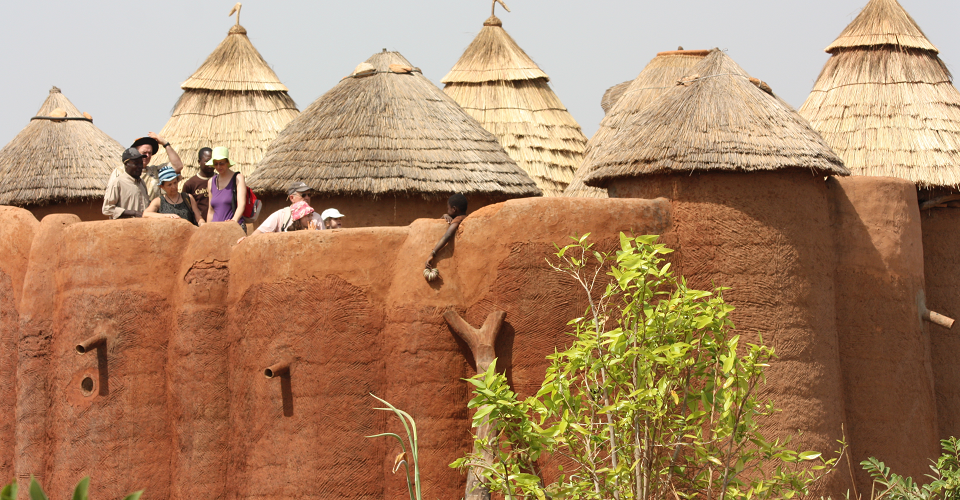 TOGO FAST FACTS
Togo, officially the Togolese Republic (French: République Togolaise), is a sovereign state in Western Africa bordered by Ghana to the west, Benin to the east and Burkina Faso to the north. It extends south to the Gulf of Guinea, where its capital Lomé is located. Togo is one of the smallest countries in Africa, with a population of approximately 9.7 million.
Togo is known for its palm-lined beaches and hilltop villages. Togo is a tropical, sub-Saharan nation, whose economy depends highly on agriculture, with a climate that provides good growing seasons. It covers about 57,000 square kilometers (22,000 square miles) and has a width of less than 115 km (71 mi) between Ghana and its eastern neighbor Benin
While the official language is French; other languages are spoken, particularly those of the Gbe family. The largest religious group is Christian (47.8%) with the second largest being those with indigenous beliefs. There is a significant Muslim minority. Togo is a member of the United Nations, African Union, Organization of Islamic Cooperation, South Atlantic Peace and Cooperation Zone, Francophonie, Commonwealth, and Economic Community of West African States.
WHY VOLUNTEER IN TOGO
It is listed in the least developed country group. Poverty in Togo is a widespread issue. The nation is one of the world's top five producers of phosphates, which are widely used in making fertilizers. However, Togo remains poor. The disparity is especially notable in Togo's agricultural sector, in which the majority of Togo's population are employed.
These rural residents, the majority of whom are farmers, make up 65% of the Togolese workforce. Recognizing the vital role that the agricultural sector plays in Togo's economy, many organizations like Go Volunteer Africa and experts are focusing on revitalizing Togo's agricultural sector.
The yields of Togo's major export crops, such as cotton, coffee and cocoa, have been declining for some time. In order to make up for the food deficit, Togo still relies on foreign imports for some basic food items. Poverty in Togo has a close relationship with the performance of Togo's agricultural sector. As the greatest source of employment for Togolese workers, the improvement of Togo's agricultural sector is paramount to ensure a more stable economic future for Togo.
There are many different volunteer opportunities in Togo to choose from through our Togo volunteer program. You can support early childhood development program, Agriculture development program, teach English at a local school, join our environment conservation efforts, participate in our sports development program, gain medical experience to improve your resume through an internship at a local hospital or improve your French speaking skills through practice. We will match your skills and expectations with those of your host project to ensure your placement is a professionally, as well as a personally rewarding experience.
Most of our projects are based in Kpalimé a city in the Plateaux Region of Togo, 120 km north of Lomé and 15 km from the Ghanaian border. This place feels like another world from the rest of Togo. Hidden among the forested hills of the cocoa and coffee region, it offers some of Togo's best scenery and hiking and a lovely waterfall. It's also a busy place thanks to its proximity to the Ghanaian border and an important and lively market.
There will plenty of free time to explore the city. Taste all Togo's delicious foods and our team in Togo is there to support you 24/7 by answering any questions you have and will guide you throughout your trip. The people in Togo are friendly and welcoming and the country is extremely beautiful.
TOGO VOLUNTEER PROJECTS
HOW TO APPLY
To start the process fill Volunteer application form and submit it for consideration and book your placement. For more information on how to get enrolled for the volunteering experience of a lifetime contact us. Or Give us a call | WhatsApp | Telegram | Viber | Imo at +254-796-786292 to talk to a Program Specialist.