Volunteers who indicate their desire to join our Togo construction volunteer work and building volunteer program enjoy a wide variety of projects to choose from every week. Togo Construction volunteers may choose to work on different projects every week or, alternatively, work on various stages of one project through to completion (assuming they are able to stay throughout the duration of the project).
At our Togo construction volunteer work project, you can help build even if you have never picked-up a hammer before. This unique volunteering opportunity in Togo lets you get your hands dirty and actually see what a difference you've made before you head back home. The volunteer program in Togo also give you the chance to travel around the communities you are working in, explore the country, and get to know the people you are helping.
PROJECT HIGHLIGHTS
Daily manual construction work
Painting classrooms and health centres
Contribute towards community project
Community education, healthcare development
Improving schools' or healthcare infrastructure and facilities
When your volunteer vacation in Togo comes to an end, you'll be tired and a bit dirty. But, you will have made a big difference in the lives of local community. You'll leave the village with visible proof of the work you've done and happy memories of the people you've helped.
PROJECT LOCATION
Kpalimé is a city in the Plateaux Region of Togo, 120 km north of Lomé and 15 km from the border with Ghana. It is the administrative capital of Kloto Prefecture. It's surrounded by coffee and cocoa plantations. Kpalimé has a population of 75,084, making it the fourth-biggest town in Togo, after Lomé, Sokodé and Kara. The town has a cathedral, a scientific lycée, and a post-office, as well as several banks, medical centres, pharmacies, cyber-cafés and petrol stations.
In town is a 1913 German-built church with a tall steeple. A craft center in nearby Kloto features traditional crafts such as woodcarving and batik. To the east, Mount Agou has trails and views across to Ghana. Northwest, on the Ghanaian border, Missahohé Forest is known for its butterflies. In the surrounding countryside there are also several waterfalls (at Tomegbe, Kpoeta, Woatti, Woma, Ykpa, Aklowa, Kpima and Amegape) that cascade down from the plateau.
ARRIVAL & AIRPORT PICKUP
After you have booked and confirmed your placement, please book your flights to arrive at Gnassingbé Eyadéma International Airport in Lomé city. A member of staff from our local partner organization will meet you on arrival at Airport and take you to the volunteer guest house or host family which will be your base for volunteering. This airport services numerous international carriers. Togo has good connections to destinations throughout Europe, the Asia- Pacific region, USA and Africa.
ORIENTATION
Orientation and Placement will be done the next day. Generally, your volunteer orientation is an overview of the project's mission, expectations and introduction to the local community and project site. Following your arrival in Togo you will be given a presentation by the co-coordinating project team to prepare you for the work you will be doing.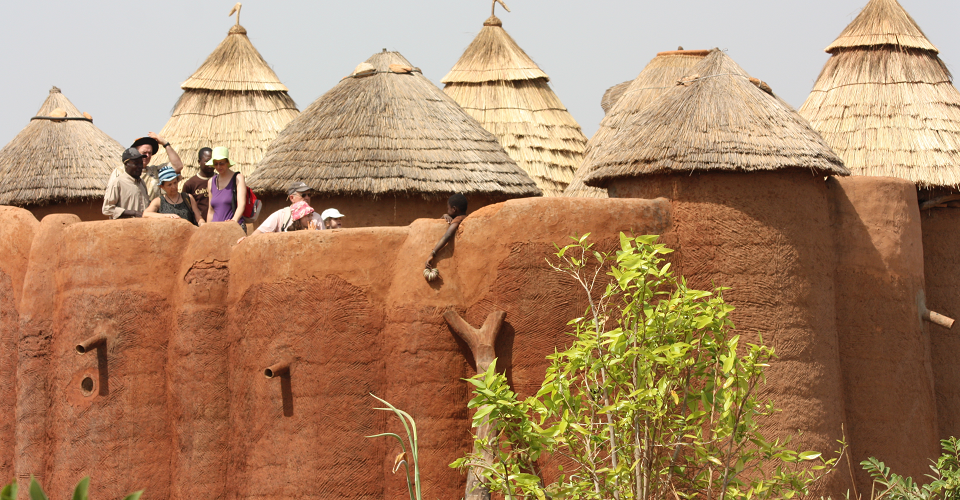 PROJECT DETAILS
The aim of our Togo construction volunteer work program is to tackle local development issues through infrastructure development. The development of a formal education and healthcare structure and the building of schools and health centres is seen as key to achieving this goal and improving the lives of people here.
This Togo construction volunteer work program promotes and improves the quality of healthcare and education in the communities of Togo. The main focus is lifelong healthcare and education systems for sustainable development and improvement on their quality of life. The primary focus of the projects is construction and repairing of local schools and community health centre. We have a number of ongoing construction projects funded by local people and support grants.
The people here are hard working and appreciative of our contribution to their community and are incredibly responsive to our presence on the project. Although the work may occasionally be arduous, it is rewarding and fulfilling, giving us an unforgettable experience and the opportunity to make a real difference! The projects help to improve the infrastructure and quality of educational and healthcare facilities in Togo.
Although certain projects often present unique needs and challenges, there are several core areas (and corresponding activities) you will likely find yourself contributing to at some point during your service as a Go Volunteer Africa Construction Volunteer in Togo: Site Preparation (demolition, digging foundations, clearing rubble, etc.), Building (Mixing and pouring concrete, bricklaying, carpentry, plumbing, etc.), or Community Beautification (planting trees, landscaping, community cleanups, painting murals, etc.). Whatever your interest, rest assured you'll get your hands dirty from the start!
You don't need any previous building experience to get involved in our Togo construction volunteer work, though you should be physically fit and willing to work hard in order to take part in this project. You will be working from Monday to Friday in a small team of like-minded individuals. The day-to-day work program will vary according to the time of your visit and the stage of the improvement work. Whatever your contribution, you are sure to find this project incredibly rewarding when you see the progress the project has made.
GROUP VOLUNTEER TRIPS
Get some friends together or organize a group from your school and embark on this incredible adventure! Discounts are offered on any group of 5+ participants on Togo volunteering program.
LONGTERM VOLUNTEER WORK
Please contact us for more information about our long-term volunteer work in Togo. We will guide you on the best times of the year, what to pack, and what extra health precautions to keep in mind and all logistics.
VOLUNTEER ACCOMMODATION
Volunteers are provided accommodation in a volunteer house or in a homestay accommodation managed by the local coordinating team. Three meals a day (Breakfast, Lunch and Dinner) are provided to the participants from Monday – Sunday. The accommodations are neat and clean. Accommodation is shared amongst volunteers on the 'same gender sharing' basis rooms. Wifi internet, warm water is not guaranteed.
The homes are close to useful amenities like banks, ATM's, currency exchanges, restaurants, cafes and shopping places. All placements are around 10 – 30 minutes from the accommodation. At some point volunteers might be on the move and hence we suggest also bringing a sleeping mat and sleeping bag/pillow for travel and weekends away on adventures. Bathrooms are usually shared. There is a lounge area for relaxing, reading, or watching movies.
AGE REQUIREMENT
Our program is for anyone eighteen years and above who loves nature, wildlife and social experiences with people from all over the world. We also accepts volunteers of 16+ years of age if they are in a group with a guardian or supervisor above 25years. Volunteers under 16 years old are only considered when accompanied by a parent/guardian. There isn't a maximum age limit, though a reasonable fitness level is necessary. Families are encouraged to apply and are welcome!
VISAS
Visitors to Togo must obtain a visa from one of the Togo diplomatic missions unless they come from one of the visa exempt countries or countries eligible for visa on arrival. All visitors must hold passports valid for a minimum of 6 months from the arrival date. Nationals of all countries can obtain a visa on arrival for a maximum stay of 7 days, if they hold a return or onward ticket. Extension of stay is possible for additional 90 days.
INSURANCE
You'll need to buy appropriate travel insurance covering your participation on the program. You won't be able to go without the right travel insurance so double check to avoid disappointment. Please make sure that you're covered for the whole duration of your trip – from the day you leave your home to the day you return. Buy here Now
WEEKENDS AND FREE-TIME
Over the weekends or evenings, participants are free to eat out and explore the different delights that Togo has to offer. We arrange city day tours and long-weekend safaris. No matter what your interests, there is always something for everyone to enjoy!
PROJECT QUICK FACTS
| | |
| --- | --- |
| Availability: | Project open all year round |
| Duration: | Minimum 2 weeks commitment |
| Age Limits: | Minimum 18yrs or older for solo travelers. |
| Minimum Age: | Families are welcome |
| Start Dates: | Flexible start and end dates |
| Arrival dates: | One day before the start date |
| Airport Arrival: | Airport pickup, meet and greet by GVA partner representative |
| Working Days: | Monday – Friday – 5 days a week, 3-5 hours in a day |
| Weekends: | Travel / Sightseeing NOT included in program cost |
| Accommodation: | Host Family or volunteer house |
| Meals: | Breakfast, lunch and dinner daily |
| Support: | Pre-departure guide, In-country staff available 24/7 |
| Location: | Kpalimé |
| Language: | English / French |
IN A NUTSHELL
Volunteering in Togo with Go Volunteer Africa is affordable, low cost and budget friendly. The volunteer opportunities in Togo are meaningful and life changing both to the volunteer and the host community.
Go Volunteer Africa was ranked as the best volunteer organization in Togo. All volunteer programs in Togo are community driven and managed by the local coordinating teams and this will give you a chance to get to know local people and really help those in need.
Go Volunteer Africa is among the top NGOs looking for volunteers in Togo. Most volunteer projects in Togo are located throughout the country in places like Kpalimé, Lomé and in more rural areas.
Volunteer in Togo with Africa's leading and largest volunteer travel organization. Volunteer Jobs in Togo are available throughout the year. Do volunteer charity work in Togo, empower communities and vulnerable individuals, change both your lives and the recipients' of your generosity.
PROGRAM FEE: (USD$)
2 Weeks
Two Weeks
$360
Minimum Duration
Inclusions & Exclusions
Project Orientation
Accommodation
3 Meals Daily
Airport Pickup
In-country Support
Apply Now
3 Weeks
Three Weeks
$460
Our Most Popular
Inclusions & Exclusions
Project Orientation
Accommodation
3 Meals a day
Airport pickup
In-country Support
Apply Now
Any Extra Week
Weekly
$100
Any additional Week
Inclusions & Exclusions
Project Orientation
Accommodation
3 Meals a Day
Airport Pickup
In-country Support
Apply Now
Program Fee Excludes:
Flights
Visas
Insurance
Personal Expenses
Airport Drop off (Can be arranged upon request)
APPLICATION & PLACEMENT BOOKING FEE
Please Note: An application and placement booking fee of $180 is charged over and above the program fee as an application payment to secure your placement.
The fee covers: Administration Costs, Placement Booking & Confirmation, Pre-departure support & documentation, 24-hour international HQ back-up.
HOW TO APPLY
If you are planning to start the program in less than 3 months from now (start within 12 weeks from date of application), Fill Volunteer application form. If you are planning to start program more than 3 months from now (start within 13 weeks and above – up to 24 months) or if you are not very certain of the exact start dates- just reserve your placement by filling volunteer reservation form. or Simply Make an inquiry here
Volunteer Application Form Placement Reservation Form Contact Us