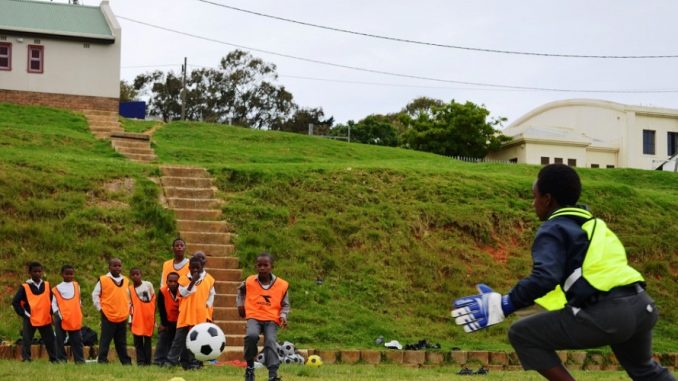 Through our sports coaching volunteer project in Rwanda, Go Volunteer Africa is aiming at enhancing the physical, social and emotional development of children and youth in Rwanda. The program provides at-risk children and youth a safe environment in which they participate in a number of extra-curricular activities.
Whether you just love sports or you're a professional, we have a project for you in Rwanda! No experience required, just a desire to use Sports to help others. Sports coaching volunteers train, play and get immersed into the life of the community. This volunteer project in Rwanda is perfect for gap year, summer holidays, student travel and career breaks.
PROJECT HIGHLIGHTS:
Prepare sports training modules/plans
You will be teaching and assisting in sports trainings.
You might be assigned to develop team assignments
You will be able to share your knowledge, skills and passion for sport
You will learn deeply about Rwandese culture and the country
You will do something positive
You will make a significant and worthwhile contribution to the local community
You will meet new people and make friends for life
Many children in Rwanda don't have the opportunity to receive proper coaching and they lack basic sports skills. You'll work with schools and community teams after school. Sports has the power to bring people together. It speaks a universal language and cuts through culture, race and religion.
The sports coaching volunteer project also helps coordinate important educational workshops in areas lacking emphasis in general school curricula such as recycling, nutrition, hygiene, and self-esteem. This is a fun project for anyone who loves working with children and youth. The youth are very enthusiastic and always keen to learn, play, and interact with volunteers.
PROJECT LOCATION:
Bugesera is a district (akarere) in Eastern Province, Rwanda. Its capital is Nyamata. The district is the location of two memorial sites of the Tutsi Genocide in Rwanda at Ntarama and Nyamata.
Geographically Bugesera comprises areas south of Kigali, which were formerly in the Kigali Ngali province, around the town of Nyamata. The area is prone to droughts, and has been earmarked as the location for a possible new international airport to serve Kigali, 40 km away, and the rest of the nation, replacing Kigali International Airport.
ARRIVAL & AIRPORT PICKUP:
After you have booked and confirmed your placement, please book your flights to arrive at Kigali International Airport in Kigali City. A member of staff from our local partner organization from Bugesera will meet you on arrival at Airport. This airport services numerous international carriers. Rwanda has good connections to destinations throughout Europe, the Asia- Pacific region, USA and Africa.
ORIENTATION:
Orientation and Placement will be done the next day. Generally, your volunteer orientation is an overview of the project's mission, expectations and introduction to the local community and project site. Following your arrival in Rwanda you will be given a presentation by the co-coordinating project team to prepare you for the work you will be doing.
PROJECT DETAILS:
Go Volunteer Africa sports coaching volunteer project in Rwanda caters for volunteers of all levels of experience and you will be supervised by local coaches. This sports coaching volunteer project in Rwanda will offer you a life changing experience and the memory will last with you forever. You will get to integrate into local society, sample the tasty food, experience the vibrant culture and also make a difference.
If you are a sports lover or physically active person, you can volunteer in Rwnada as a sports coaching volunteer with Go Volunteer Africa. You can volunteer as a sports coaching instructor of athletics, baseball, basketball, boxing, cricket, football, golf, hockey, martial arts, netball, polo, rugby, surfing, swimming, tennis, ultimate frisbee, volleyball and more!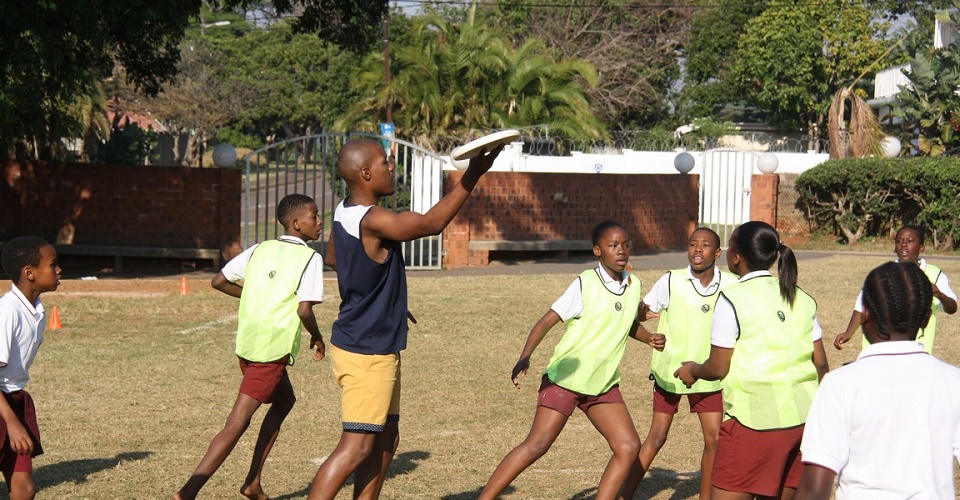 Go Volunteer Africa's Games, Sports and Recreation Program in Rwanda collaborates with local communities to promote healthy lifestyles amongst local children/youth through teaching basic skills and tactics of football (soccer) and volleyball, netball, skating and so many other sports.
Given the lack of adequate recreational opportunities available to youth in the slums and semi-urban areas, our volunteering program in Rwanda seeks to provide at-risk children and youth with a safe environment where they can practice these activities in order to make productive use of free time.
In addition, we emphasize important core values like mutual respect, trust, fair-play and self-esteem as well as sportsmanship, teamwork, and leadership. Volunteers contributing to this program will plan and lead practices of understanding the sport or game. Working in the heart of the community you can help put a smile on the faces of the children and youth of Rwanda.
You can teach a new sport or add skills to the sports activities our children and youth already know. You can participate in fitness and training of sports for children and youth and you can combine it with another project, like mentoring for slum or village youth.
This project aims to empower the local children youth of Rwanda through various sports and games activities. You can combine this project with other community service projects in Rwanda. If you are looking for a volunteer project with a difference, then join meaningful volunteer project in Rwanda.
This sports coaching volunteer project in Rwanda is unique as its combine volunteering, fun, adventure and trekking, you will need to be in good shape to participate. On the weekends you are encouraged to explore the country with friends you make on the program, and our representatives are available to give travel advice and make safari bookings for you.
GROUP VOLUNTEER TRIPS:
Get some friends together or organize a group from your school and embark on this incredible adventure! Discounts are offered on any group of 5+ participants on Rwanda volunteering program.
LONGTERM VOLUNTEER WORK:
Please contact us for more information about our long-term volunteer work in Rwanda. We will guide you on the best times of the year, what to pack, and what extra health precautions to keep in mind and all logistics.
VOLUNTEER ACCOMMODATION:
Volunteers are provided accommodation in a volunteer house or in a homestay accommodation managed by the local coordinating team. Three meals a day (Breakfast, Lunch and Dinner) are provided to the participants from Monday – Sunday. The accommodations are neat and clean. Accommodation is shared amongst volunteers on the 'same gender sharing' basis rooms. Wifi internet, warm water is not guaranteed.
The homes are close to useful amenities like banks, ATM's, currency exchanges, restaurants, cafes and shopping places. All placements are around 10 – 30 minutes from the accommodation. At some point volunteers might be on the move and hence we suggest also bringing a sleeping mat and sleeping bag/pillow for travel and weekends away on adventures. Bathrooms are usually shared. There is a lounge area for relaxing, reading, or watching movies.
AGE REQUIREMENT:
Our program is for anyone eighteen years and above who loves service above self and social experiences with people from all over the world. We also accepts volunteers of 16+ years of age if they are in a group with a guardian or supervisor above 25years. Volunteers under 16 years old are only considered when accompanied by a parent/guardian. There isn't a maximum age limit, though a reasonable fitness level is necessary. Families are encouraged to apply and are welcome!
VISAS:
The Republic of Rwanda, a member of the East African Community, allows citizens of all countries that are not visa exempt to obtain a visa on arrival. In addition, they may also obtain an e-Visa online before departure. All visitors must hold a passport valid for at least six months with at least one empty page.
From February 2014 Kenya, Rwanda and Uganda began issuing an East African Tourist Visa. The visa costs 100 USD and has no restrictions on citizens of any country. The visa is a non-extendable multiple-entry 90-day visa that has to be first used to enter the country that issued the visa.
INSURANCE:
You'll need to buy appropriate travel insurance covering your participation on the program. You won't be able to go without the right travel insurance so double check to avoid disappointment. Please make sure that you're covered for the whole duration of your trip – from the day you leave your home to the day you return. Buy here Now
WEEKENDS AND FREE-TIME:
Over the weekends or evenings, participants are free to eat out and explore the different delights that Rwanda has to offer. We arrange city day tours and long-weekend safaris. No matter what your interests, there is always something for everyone to enjoy!
PROJECT FACTS:
| | |
| --- | --- |
| Availability: | Project open all year round |
| Duration: | Minimum 2 weeks commitment |
| Age Limits: | Minimum 18yrs or older for solo travelers. |
| Minimum Age: | 12 to 17 yrs if traveling with parent/guardian |
| Dates: | Flexible start and end dates |
| Arrival dates: | One day before the start date |
| Airport Arrival: | Airport pickup, meet and greet by GVA partner representative |
| Working Days: | Monday – Friday – 5 days a week, 3-5 hours in a day |
| Weekends: | Travel / Sightseeing NOT included in program cost |
| Accommodation: | Host Family or volunteer house |
| Meals: | Breakfast, lunch and dinner daily |
| Support: | Pre-departure guide, In-country staff available 24/7 |
| Location: | Bugesera |
| Language: | English & French |
PROGRAM FEE: (USD$)
2 Weeks
$360
Inclusions & Exclusions
Project Orientation
Accommodation
3 Meals a day
Airport Pickup
In-country Support
Flights
Visas
Insurance
Personal Expenses
Airport Drop Off (Can be arranged upon request)
Apply Now
3 Weeks
$460
Inclusions & Exclusions
Project Orientation
Accommodation
3 Meals a day
Airport Pickup
In-country Support
Flights
Visas
Insurance
Personal Expenses
Airport Drop off (Can be arranged upon request)
Apply Now
Any Extra Week
$100
Inclusions & Exclusions
Project Orientation
Accommodation
3 Meals a day
Airport Pickup
In-country Support
Flights
Visas
Insurance
Personal Expenses
Airport Drop off (Can be arranged upon request)
Apply Now
APPLICATION & PLACEMENT BOOKING FEE:
Please Note: An application and placement booking fee of $180 is charged over and above the program fee as an application payment to secure your placement.
The fee covers: Administration Costs, Placement Booking & Confirmation, Pre-departure support & documentation, 24-hour international HQ back-up.
HOW TO APPLY
If you are planning to start the program in less than 3 months from now (start within 12 weeks from date of application), Fill Volunteer application form. If you are planning to start program more than 3 months from now (start within 13 weeks and above – up to 24 months) or if you are not very certain of the exact start dates- just reserve your placement by filling volunteer reservation form. or Simply Make an inquiry here
Volunteer Application Form Placement Reservation Form Contact Us